Oilfield Traffic Collisions
Statistics confirm that more Oil Patch workers (40%) are killed in highway collisions than any other type of on-the-job accident. The Occupational Safety and Health Administration (OSHA) cites data from the Census of Fatal Occupational Injuries to report that "roughly 4 of every 10 workers killed on the job in this industry are killed as a result of a highway vehicle incident."

In Texas, merely driving through one of its five largest-producing oil and gas areas can be deadly for anyone: almost half (50%) of all state traffic fatalities are reported to occur within these five regions. Read, "Here's Why These Parts of Texas See More Fatal Crashes and What Could Save Lives," written by John C. Moritz of the USA Today Network and published in the Corpus Christi Caller Times on November 26, 2019.
The Death Highway: Route 285 in the Permian Basin
One particular stretch of roadway in West Texas has had so many fatal Oil & Gas related accidents that it has been nicknamed the "Death Highway." A two-lane road originating in Sanderson and moving on through Fort Stockton and Pecos in Texas to the New Mexico border and onward to end in Denver, Colorado, Route 285 became a vital link for the petroleum industry in the fracking boom arising in the Permian Basin. The Texas "Death Highway" is reported to have cost 93 lives in fatal Oil Field Traffic Collisions in one year alone. See, "'Death Highway' In Texas' Permian Basin Sees Accidents, Fatalities Pick up as Oil Price Rises," published in the Dallas Morning News on July 30, 2018.
Why Are There So Many Fatal Oil Field Transportation Accidents?
Getting behind the wheel may be a routine part of the job in the Oil and Gas Industry. The logistics of moving crews and equipment, as well as product, in remote rural areas is a necessity. Drilling and excavation operations are usually not located close to a metropolitan area, but out in the expanses of rural Texas' western plains, its eastern piney woods, or its southern farmlands.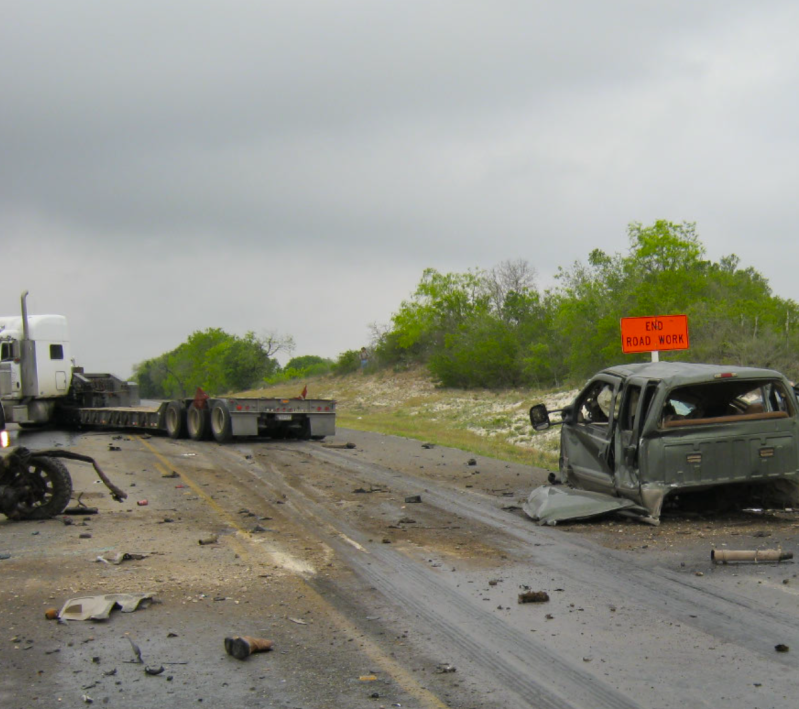 Huge Amount of Road Traffic
Employees travel these rural routes as they go to and from work to company-provided housing, or "man camps." Truckers drive their rigs carrying fuel freight and equipment along those same routes at all times of the day and night. It never stops. Meanwhile, both the big trucks and the employee vehicles share these rural roadways with any other traffic that is driving along the route, including drivers who reside in the neighboring towns as well as entrepreneurs who have set up shop to serve the influx of Oil & Gas workers. See, "How Texas' oil fracking boom tore a "highway of death" through this tiny town," written by Renee Lewis and published by Vice on November 12, 2018.
It's a huge amount of traffic, much of it carrying flammable cargo in heavy commercial vehicles moving at high rates of speed. Commercial trucks are heavy machines, even before they are loaded for transport. The likelihood of a fatality in any collision, especially a four-wheeler colliding with one of these semi-trucks, is astonishingly high.
The 2020 National Freight Strategic Plan published by the Department of Transportation in September 2020 warns of the risks involved in freight transportation fatalities in this country:
As freight transportation activity has increased, the number of freight transportation-related fatalities has risen…. Fatalities resulting from truck-involved crashes made up 89.2 percent of all freight transportation fatalities and 12.8 percent of all highway fatalities in 2017.
Fatal Crash is High Risk for Large Trucks on the Road
According to the independent, non-profit Insurance Institute for Highway Safety (IIHS), there are several reasons why commercial trucks built to move cargo and freight are so dangerous on the road with a high risk of a deadly crash. Consider the following:
These huge trucks usually weigh 20-30 times more than the four-wheelers with whom they are sharing the roads (i.e., sedans, SUVs, minivans, pickup trucks);
These commercial trucks are bigger than the four-wheelers with a higher ground clearance which increases the change of a fatal underriding crash;
Loaded trucks take 20-40 percent farther road length than cars to stop;
Weather (wet, slippery road surfaces from rain or ice) can make the time and distance needed to stop even longer for a loaded commercial truck;
Badly maintained brakes or tires can contribute to a fatal truck crash as the truck driver is unable to stop the truck before impact; and
Truck driver fatigue is a recognized fatality accident risk (despite the federal Hours-of-Service regulations).


Employer's Duty of Care to Protect against Oilfield Crashes
Under state and federal law, legal duties of care are placed upon the Oil and Gas employers to prevent workers from dying in a fatal truck crash or car accident while on the job. Employers are legally mandated to take proactive steps to protect against the risk of a crash in many ways, including:
(1) monitoring drivers for fatigue;
(2) monitoring drivers for the use of drugs or alcohol;
(3) training drivers in highway safety practices; and
(4) establishing reasonable work schedules to avoid drowsy driving.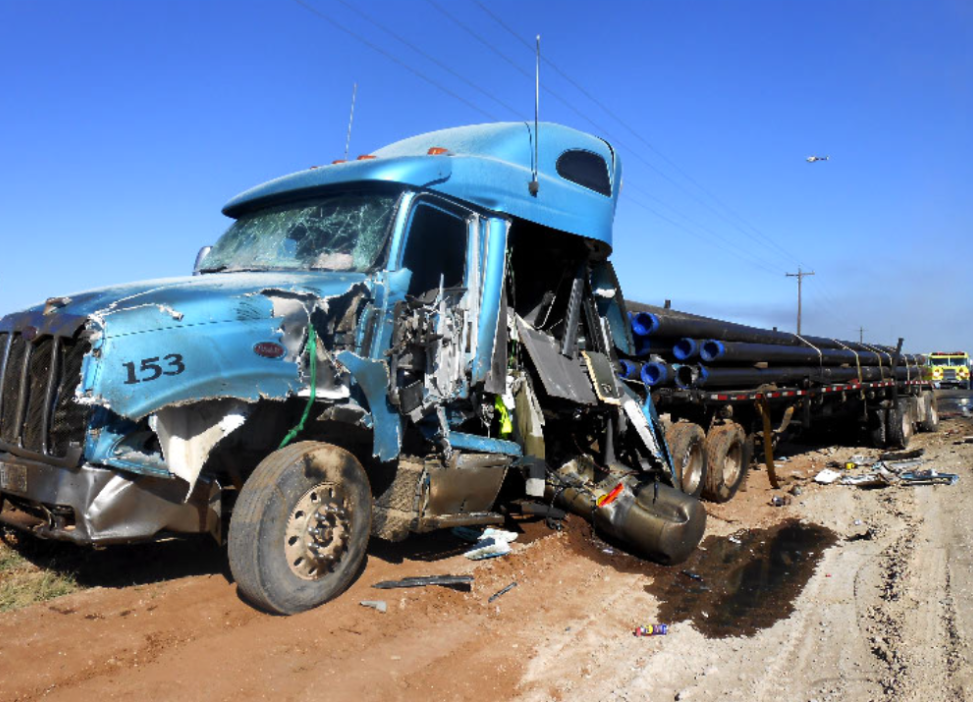 REPRESENTING VICTIMS OF OILFIELD TRAFFIC COLLISIONS
WigRum is proud to advocate for workers and their families who are seeking justice from some of the most powerful oil companies in the world in the aftermath of tragic oil field traffic accident where someone has been severely injured or killed. Employers, and others, who have failed in their duty of care to keep workers and others safe on the roads and as a consequence have caused the collision can be made to pay monetary damages under Texas law that cover not only medical claims and economic harm, but also the possibility of non-economic and exemplary (punitive) damages. Oftentimes, these claims total to significant sums.
Our representations on behalf of Oilfield Traffic Collision victims include the following:
Overworked Driver in Deadly Tractor-Trailer Rear-End Collision
After being employed by Crest Pumping Technologies, LLC, for only 19 days, Mr. James Wesley Humphries, Jr. fell asleep at the wheel while operating a Crest tractor-trailer after working 110 hours in five days. His rig crashed into the rear of a truck driven by Mr. Jesus Vela with the impact of the collision so great that both vehicles caught fire. Both Mr. Humphries and Mr. Vela perished in the crash inferno. Discovery quickly revealed that company supervisors had actual knowledge Mr. Humphries as well as his entire crew were tired and fatigued. They instructed them to drive anyway. A lawsuit was filed by WigRum on behalf of Jesus Vela's Estate as well as his widow and children, and was settled for a confidential sum.
Tractor-Trailer Multi-Vehicle Traffic Fatality in the Eagle Ford Shale
On April 2, 2013, Mr. Lance Bryan was driving a 2006 Chevrolet Silverado Pickup Truck heading south on US Highway 181 when Joshua West, driving a 2003 Ford F250 Pickup Truck pulling a 2013 Magnum Trailer for Signor Services, L.L.C., Signor Development Group, L.L.C. and Signor Logistics, L.P., inexplicably veered left into the southbound lane and struck Lance Bryan's vehicle, killing him. Defendant Edward Ray Sturgis was traveling above the posted speed limit and was unable to control the DCI tractor-trailer he was driving. In May 2013, David Rumley of Wigington Rumley Dunn & Blair, L.L.P., filed a suit on behalf of Mr. Bryan's estate and family against Signor Services, L.L.C., Signor Development Group, L.L.C., Signor Logistics, L.P., Joshua Ray West, Danne Richey, Curt Hall, DCI Construction and Edward Ray Sturgis in Karnes County, Texas. The case was settled for a confidential sum.
For more details on Oil Field Traffic Collision Accidents, review summaries of our past cases, as well as details provided of past Verdicts and Settlements.
Regarding our representation of victims and their loved ones who have suffered as a result of wrongdoing by the Oil & Gas Industry, also see: