Oilfield Accidents
An "oilfield" has been defined as "… an area of land from where crude oil and natural gas is produced. It can extend to multiple miles as hydrocarbon reservoirs generally spread over a large area below the earth's surface. Multiple oil or gas wells can be drilled in a single Oilfield."

There are hundreds of oilfields in the State of Texas. (Go here for an alphabetical online list; there are 61 entries for the letter "A" alone.) The Texas Railroad Commission is statutorily entrusted with keeping track of oilfield operators in the Lone Star State: in September 2020, there were over 600 operators registered with the state.
In 2018, Texas generated 1,590,000,000 barrels of oil, which was its highest ever production year. In 2018, Texas alone provided the United States with almost half (40%) of produced crude oil. Much of that oil production came from either the Permian Basin or the Eagle Ford Shale.
Proud Heritage of Oil & Gas Workers
All these figures translate into a huge opportunity for many people to find work and support their families by being employed in the oil and gas industry. Employment in an oilfield can be lucrative for many skilled workers, and many take well-deserved pride in being a professional oilfield employee. Oftentimes, working in oil and gas becomes a family tradition with fathers and sons, brothers, or cousins all becoming involved in some aspect of the Oil Patch.
However, with those rewards comes great risk: the risk of being permanently injured or killed while on the job.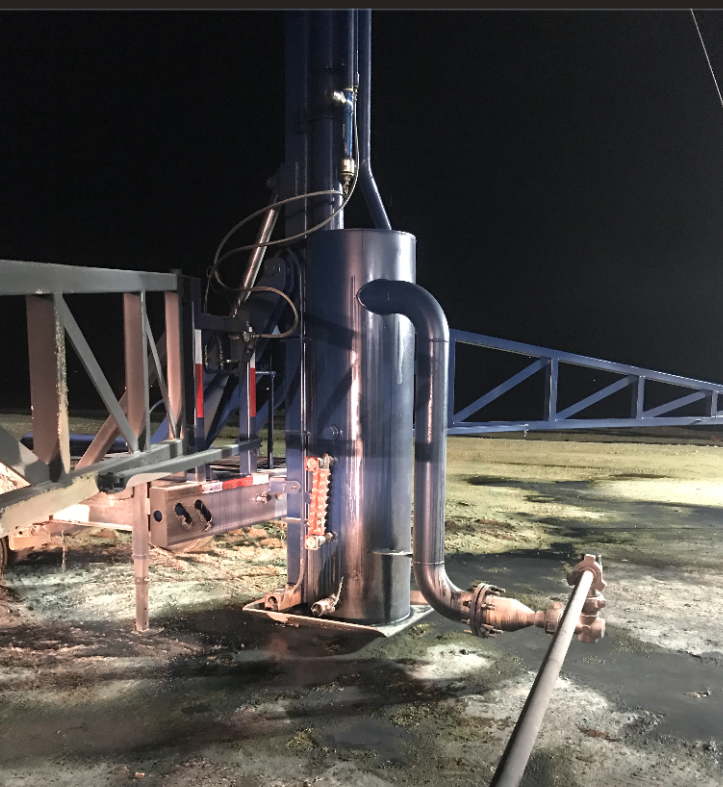 Oilfield Work: 70% Greater Chance of Dying on the Job
According to the Centers for Disease Control and Prevention (CDC), the risk of dying on the job for oil and gas workers is 7 times (70%) higher than it is for workers in other industries. See, "Avoid Fatalities and Injuries in the Oil and Gas Industry," written by Karen D. Hamel and published by OSH Online on February 1, 2020.
Oilfields: Complicated Work Environment
The Oil Patch is a complex workplace with all sorts of work taking place both by oil and gas extraction workers as well as workers from other trades (like construction) who are undertaking work at the oilfield alongside the petroleum professionals. There are also those entrusted with hauling crude oil or natural gas as well as other necessities, and those involved with storing the product.
Workers can be on the drilling site, targeting crude oil and natural gas. The work can involve finishing up a new well or equipping and maintaining an existing one. There is also the task of producing, containing, hauling, and shipping the product. Storage facilities also have be built, equipped, and maintained.
The oil and gas workforce is overseen not only by the Oil & Gas companies themselves, but also by a variety of contractors in the business of drilling and well servicing operations, among other things.
Anyone with a supervisory capacity or operational control over a worker or his equipment (including motor vehicles, tools, etc.) has a legal duty of care and safety for that worker established under state and federal law.
So Many Ways to Die or Suffer Permanent Injury While at Work in the Oilfield
Fatal injuries can occur at any of these sites and death can come to any of these workers, at any time. Oilfields are extremely hazardous and the risk of serious injury or death is very high. In fact, the Center for Public Integrity explains that about as many U.S. Troops died in battle in Afghanistan during the years 2008 -2017 as workers in the U.S. oilfields during that same time period.
Oil and Gas workers understand they are endangering their lives merely by working in the petroleum industry. The work is notorious for fatalities, and most of these fatal incidents involve the following:
Trauma and traumatic injuries on the job site;
Roadway accidents during commuting to or from the work site; or
Cardiac events triggered by work activities.
For more, read "Fatalities in the Oil and Gas Extraction Industry," published by the National Institute for Occupational Safety and Health (NIOSH).
Deadly Hazards on the Oilfield
The CDC reports that in 2017 there were 428,444 oil and gas workers employed as oil and gas operators or drilling contractors as well as in the variety of supporting jobs provided by contractors in both offshore and inland drilling operations. These workers deal with on the job hazards that can cause serious injury or death as a part of their daily lives, including:
The risk of a fatal fall while working at heights;
The risk of death after being struck by an object or caught between or crushed by an object when working around large and heavy moving equipment;
The danger of severe or fatal burns in a fire;
The danger of chemical burns from toxic gases, vapors, or particulates;
The danger of deadly inhalation of toxic gases, vapors, or particulates; and
The risk of a serious or fatal motor vehicle accident while on the job.
Longer Hours for Oil and Gas Workers
Not only do the oilfield workers have to work on job sites with greater hazards, but they are required to be at the workplace longer than the average U.S. worker. The Bureau of Labor Statistics in 2019 tallied the average American worker's workweek to be 34.5 hours per week, while the oil and gas operator employees work 41 - 43.9 hours per week on average and workers engaged in drilling and oil and gas support activities (66% of the workforce) work 45.8 - 49.5 hours. CDC, citing Bureau of Labor Statistics (BLS) [2019a]. Current Employment Statistics, Average weekly hours, 2017. Washington, DC: Department of Labor, Bureau of Labor Statistics.
REPRESENTING VICTIMS OF OILFIELD ACCIDENTS
WigRum is proud to represent workers and their loved ones who are seeking justice from some of the most powerful oil companies in the world in the aftermath of a deadly oilfield accident. Employers and other third parties who have breached a legal duty of care and safety to protect against serious injury or death can be made to pay monetary damages to the victims and their families that include medical expenses, lost wages, and future economic harm, as well as the possibility of punitive damages.
Our representations on behalf of Oilfield Accident victims include the following: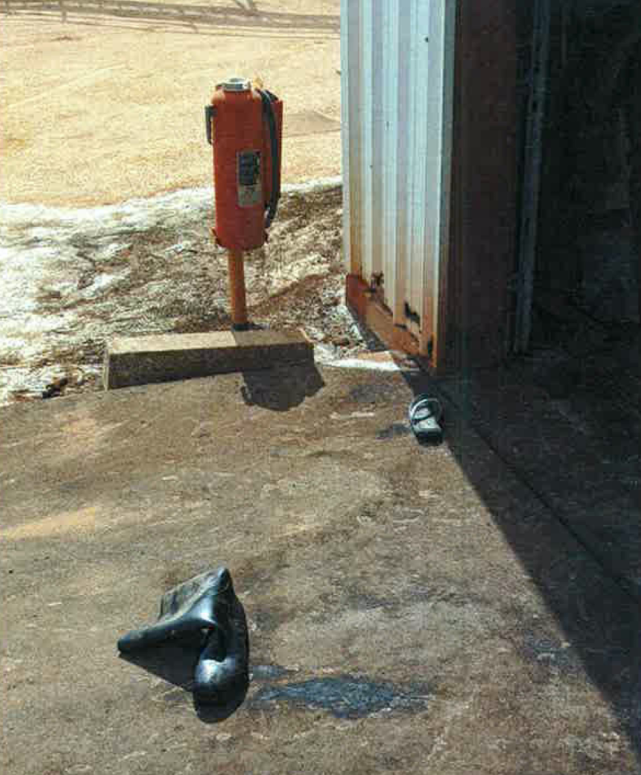 Husband and Wife Perish from Leaking Hydrogen Sulfide at Oilfield Pump House
At dusk on October 26, 2019, Jacob Dean, a relief pumper for Aghorn Oil & Gas Inc., received an alarm alert from the Foster "D" Water Flood Station, a waterflood station that received produced water from various oil producing leases. Mr. Dean responded, arriving at the Station a short while later. When he failed to return home, his wife, Natalee, began frantically calling him. No one answered. She loaded up her two small children and headed to Aghorn site. It was dark by the time she got to the location. When she arrived, she found nothing but oil on the ground and Jacob's truck, parked and running, but no one inside. Searching for Jacob, she entered the pump house where she found Jacob on the floor and then herself succumbed to the H2S. Later that evening, the Ector County Sheriff's office and Odessa Fire Department arrived on the scene, to find the bodies of both Jacob and Natalee inside the pump house. They had died from toxic gas inhalation as a result of a leaking pump and a failed Hydrogen Sulfide (H2S) monitor.

The levels of H2S were so high in the pump house that emergency crews had to wear air tanks prior to entering the building and had to wait nearly two days before investigators could inspect the building. As a result of the incident, Aghorn was issued several citations for willfully ignoring the danger at the pump house and failing to provide basic safety equipment and training to its employees. OSHA is seeking more than $100,000 in fines against Aghorn. The Texas Railroad Commission also fined the company $17,000 for several violations including the failure to prevent the release of H2S.

WigRum represented the minor children of Jacob and Natalee Dean and others in a lawsuit seeking damages based negligence, gross negligence, and premises liability. The case was settled for a confidential sum.
See: "Lethal fog smothers Texas oil sites as inspections lag," written by Mike Lee, E&E News reporter, and published on Tuesday, July 21, 2020: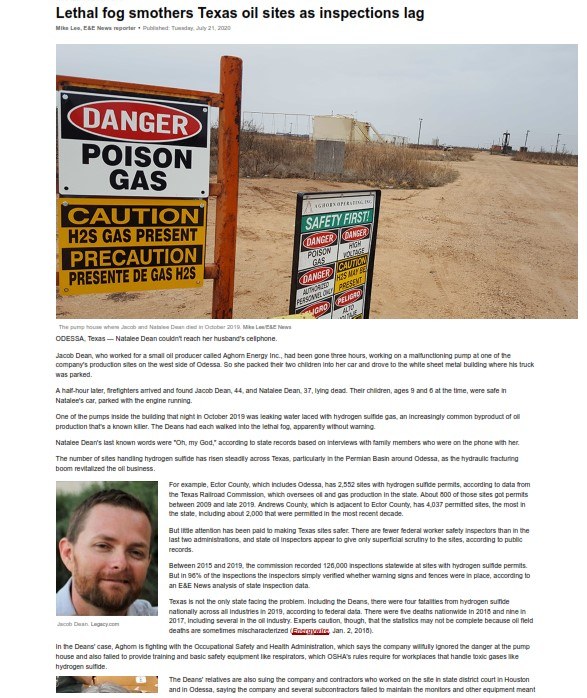 Article provided with permission of E&E News / Politico May 2021. Click on the image above to read the complete article in pdf format.

Truck Driver Dies from Exposure to Hydrogen Sulfide Gas at Rig Site
In April 2019, Stallion employee Guadalupe Lombrana was discovered unresponsive at the wheel of his tractor truck at a Dimmit County well site operated by Chesapeake Operating, LLC. While at the well site, Mr. Lombrana was exposed to hydrogen sulfide gas, which had been previously reported to have been tested in lethal quantities. WigRum represented the widow and two adult children of Guadalupe Lombrana in a lawsuit filed against his employer, the operator of the wellsite and its parent, the provider of his cargo, the on-site company man and his employer, as well as the safety company that was on site and responsible for hydrogen sulfide safety monitoring and mitigation. The case was settled for a confidential sum.

Well Fire: Condensate Ignites Leaving 28 Year Old Worker with Permanent Injuries
Justin Cantu suffered serious burns in an oil well fire while he was participating in a flowback operation for Penn Virginia. Throughout the course of the operation, the well site became an increasingly dangerous tinder box as more and more condensate was generated during the flowback process. Penn Virginia ordered that highly flammable condensate be disposed of directly onto the well pad underneath an active flair stack. Over the course of time, the condensate began to pool. Eventually, the pools of condensate combusted while Mr. Cantu was checking gauges on the flair stack. As a result of the fire, Mr. Cantu was severely burned and catastrophically injured, suffering permanent physical injuries and scars as well as psychological trauma. His hands and abdomen were burned so badly the result was lifelong loss of strength and limited range of motion. His injuries made it doubtful he would ever be able to return to his lucrative job in the oilfield. At the relatively young 28 years of age, Mr. Cantu was left with a lifetime of diminished wages ahead of him. WigRum represented Justin Cantu, his wife and minor children in their claims against his employer as well as those responsible for the well site and others and the case was settled for a confidential sum.
For more details on Oilfield Accidents, review summaries of our past cases, as well as details provided of past Verdicts and Settlements.
Regarding our representation of victims and their loved ones who have suffered as a result of wrongdoing by the Oil & Gas Industry, also see: