We believe it is a privilege to be able to contribute both as a firm and individually as attorneys and support staff within the firm. We care about improving the lives of others, both in our work as well as in our involvement in a variety of pro bono, civic, and philanthropic endeavors, such as:
Dedication to Historic Preservation: The Wigington Rumley Dunn & Blair LLP Office Buildings
Two of the offices of Wigington Rumley Dunn & Blair LLP are located in historic homes the law firm has purchased and restored in preservation and protection of each building's historic contributions and architectural beauty. For those who share our love of historic preservation, images detailing these two properties are shared throughout this site.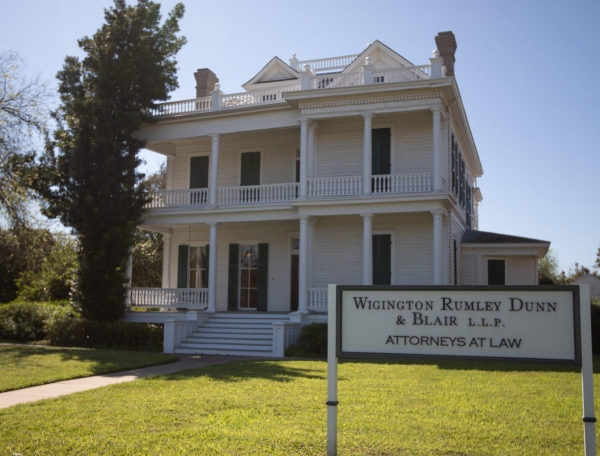 Charles Blucher House
Of note is Corpus Christi's historic Charles Blucher House, which has been the beloved home for the founding office of Wigington Rumley Dunn & Blair LLP since 2011. Built in 1880, the Charles Blucher House is an important part of Corpus Christi's heritage. The city was founded in part by Felix and Maria von Blucher, whose five sons and daughters were responsible for building the five mansions atop the bluff overlooking Corpus Christi Bay. Three of their homes still stand today, and Wigington Rumley Dunn & Blair LLP is proud to be the custodian of this grand piece of local history.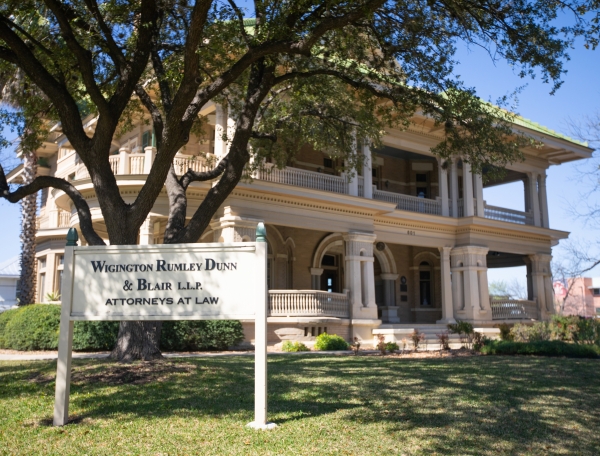 Alexander Hart-Halff Home
In San Antonio, Wigington Rumley Dunn & Blair LLP's offices are located in the historic Alexander Hart-Halff residence on Howard Street, which was built in 1904. Originally the home of prominent San Antonians Alexander Hart Halff and his wife, Alma Oppenheimer Halff, the house itself was designed by C.A. Coughline and Atlee B. Ayres. It became a recorded Texas Historic landmark in 1997. The building is also on the National Register.
Community Involvement
Wigington Rumley Dunn & Blair LLP contributes in both time and money to a variety of worthwhile organizations serving our local communities as well as the State of Texas as a whole. We are proud and enthusiastic supporters of the following:
1. Rise School of Corpus Christi
In 2007, partner David Rumley and his wife, Sherry, opened the Rise School of Corpus Christi. The Rise School promotes an early intervention curriculum emphasizing special education, early childhood education and child development for special needs children.
Wigington Rumley Dunn & Blair LLP is a proud and active supporter of the Rise School. One of the rooms in the school's new building is named for our law firm. Each year, Wigington Rumley Dunn & Blair LLP is a sponsor for both its golf tournament and the 5K run, two key fund-raising efforts for the Rise School.
2. Corpus Christi Hooks Baseball
For almost twenty years, Wigington Rumley Dunn & Blair LLP employees and their families have celebrated the firm's annual Bobblehead night at Whataburger Field in Corpus Christi, cheering on the Corpus Christi Hooks in good times and bad. We're not fair-weather fans!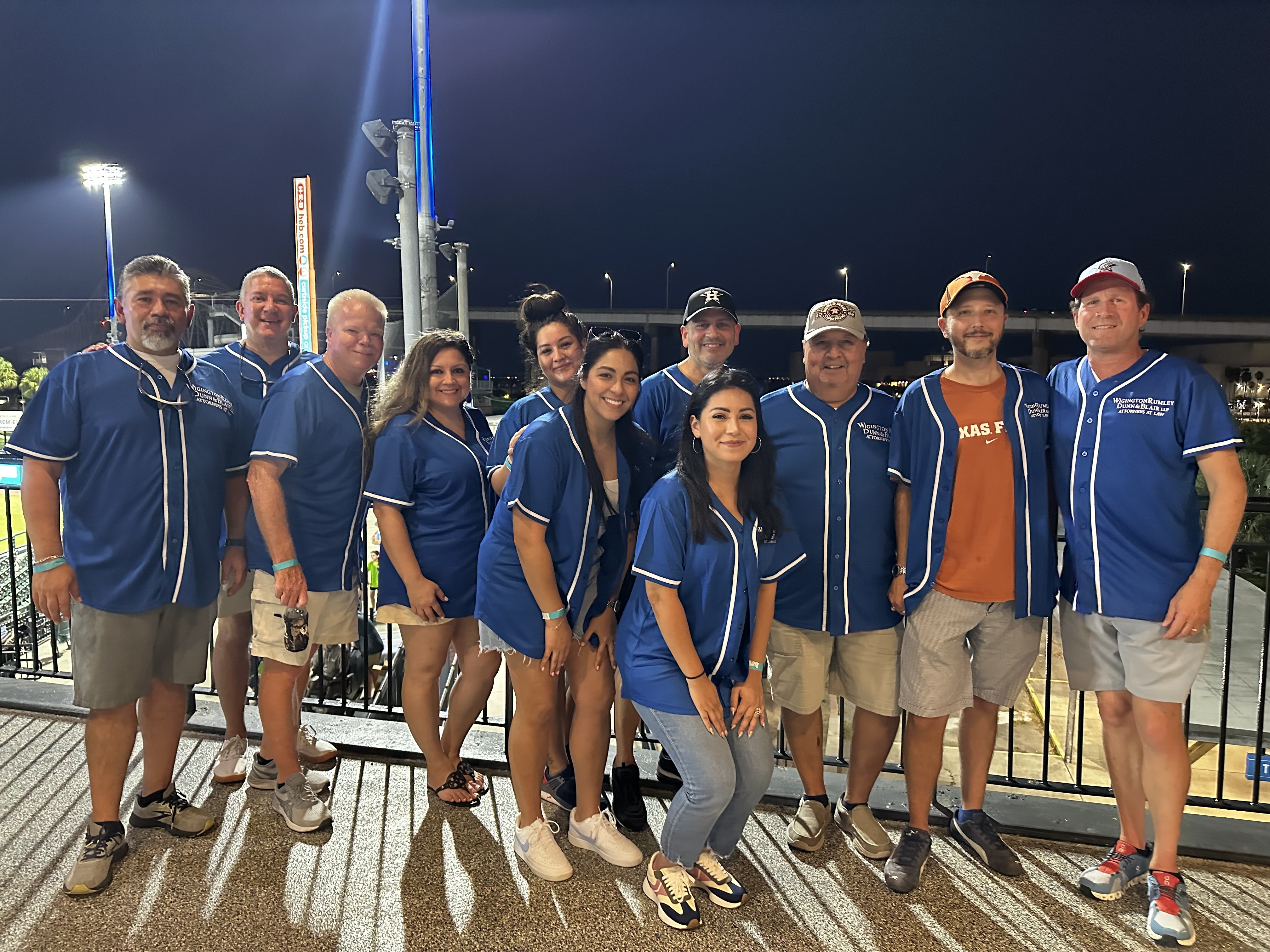 In 2005, the first WigRum Bobblehead Giveaway celebrated Nolan Ryan with a sliding bobble in recognition of "The Ryan Express." Other players commemorated over the years include Roger "The Rocket" Clemens and Hooks' alumni Yordan Alvarez aka "Air Yordan," the phenomenal ambidextrous Cuban-born hitter and left-fielder now playing for MLB Houston Astros.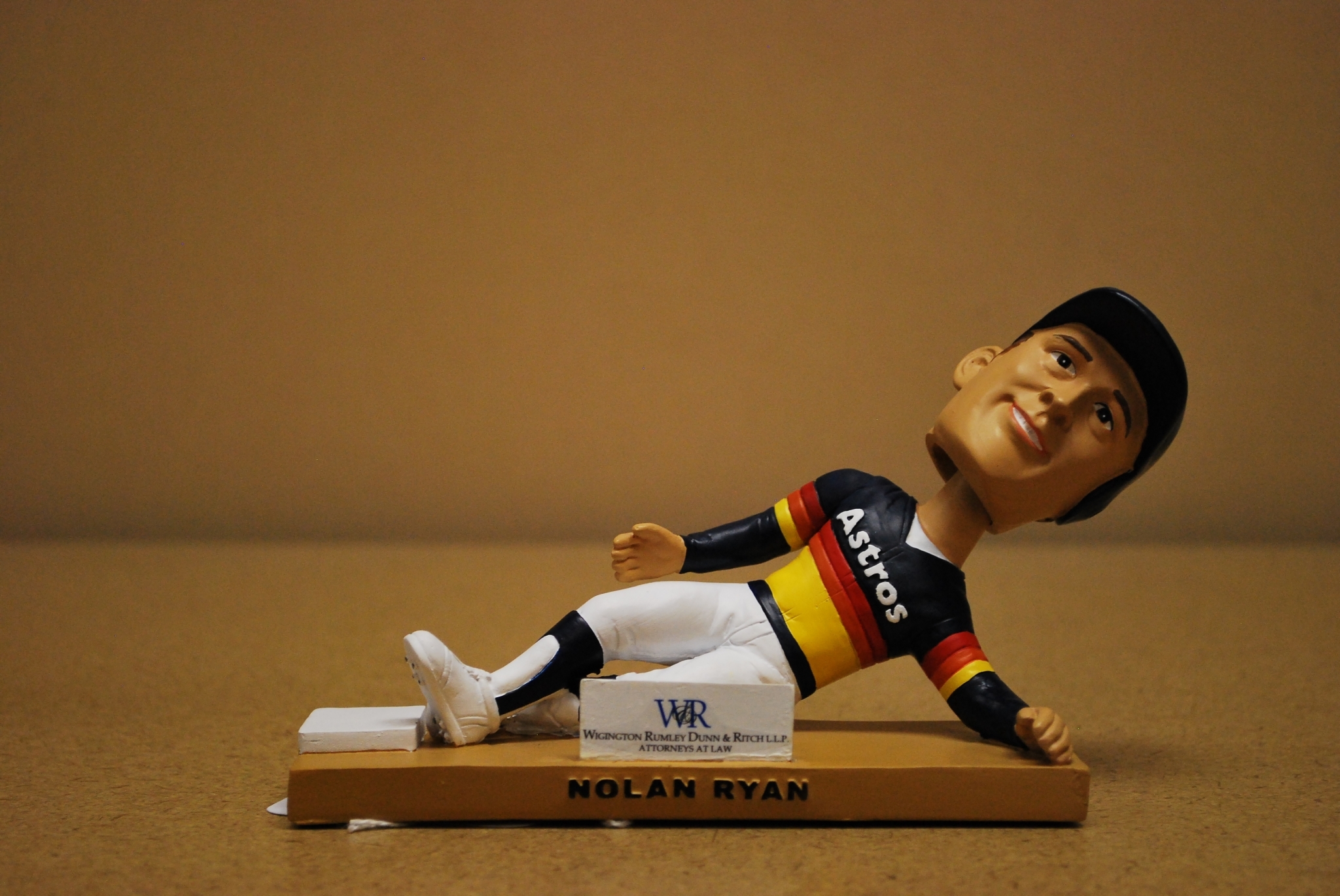 Our past Hooks Bobblehead Roster includes:

· Nolan Ryan (sliding bobble) - 2005
· Roger Clemens - 2007
· Craig Biggio - 2008
· Nolan Ryan (Hall of Fame bobble) – 2009
· Nolan Ryan – 2010
· Hunter Pence - 2013
· Nolan Ryan -2014
· Jose Altuve -2018
· Alex Bregman - 2021
· Kyle Tucker – 2022
· Yordan Alvarez – 2023.
In September 2023, WigRum sponsored 2,000 Yordan Alvarez Hooks Bobbleheads in a fan giveaway as part of the Hooks' six-game series against the Wichita Wind Surge, a Double-A affiliate of the Minnesota Twins. Our Hooks ended that series with four mighty wins against the Surge. Go Hooks!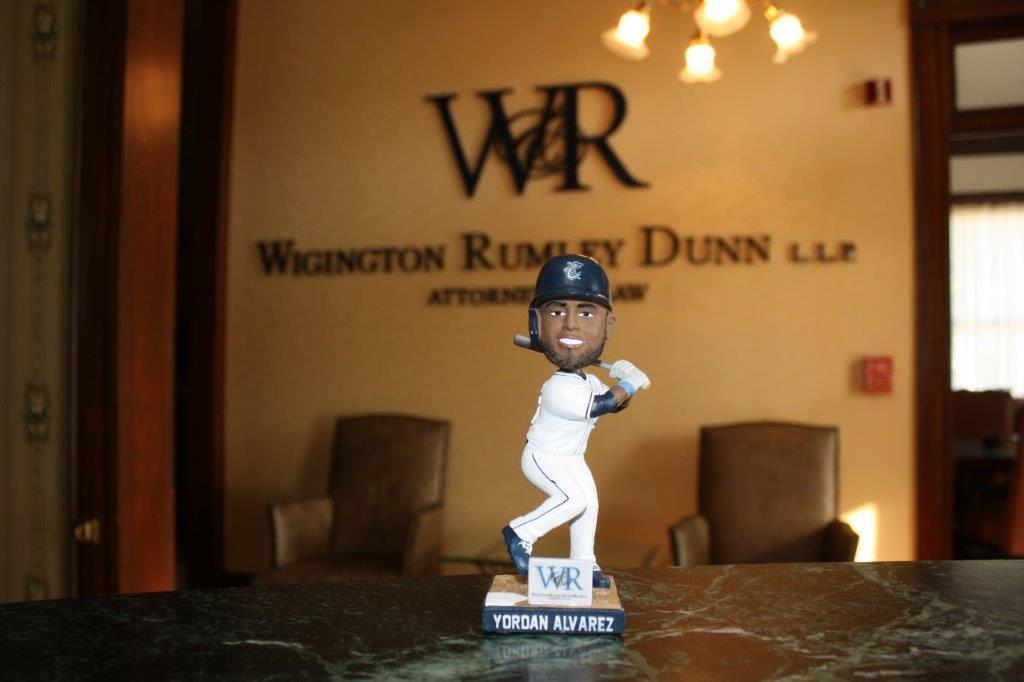 3. Driscoll Children's Hospital
Wigington Rumley Dunn & Blair LLP was privileged to take part in Driscoll Children Hospital's Wall of Honor unveiling ceremony in Corpus Christi, Texas. The Wall of Honor represents those who have given gifts to offer hope and healing to the children of South Texas. Jeff Wigington and his wife, Lyn, were there to celebrate the May 2016 debut of the Wall of Honor located in the main lobby of Driscoll Children's Hospital, located at 3533 S. Alameda Street in Corpus Christi, Texas. The law firm's name can be seen on a plaque at the entrance to the hospital.
4. Youth in Agriculture: San Antonio Livestock Exposition Jr. Commercial Steer Show; Atascosa County Livestock Show; Texas High School & Texas Junior High Rodeo Associations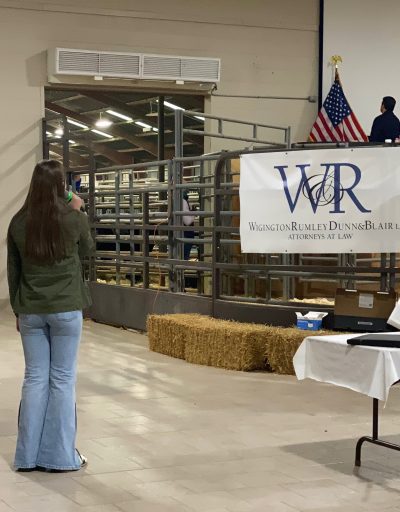 Each year, young cattlemen and women from all over Texas compete in the San Antonio Junior Commercial Steer Show. WigRum's Trace Blair co-founded the show in 1999 and has served as Arena Director each year since then. The show includes public speaking, a college level beef science test, and detailed record keeping. Trace also serves on the board of directors of the Atascosa County Livestock Show and chairs its Auction Committee.
Wigington Rumley Dunn & Blair LLP has been a proud sponsor of these events for several years. WigRum's support of youth in agriculture also extends to both the Texas High School Rodeo Association and the Texas Junior High Rodeo Association as well as the Duval County Livestock Show where contributions supported children in their individual 4H or FFA projects.
In 2021, WigRum was honored to be a contributing factor in the ability of the Atascosa County Livestock Show to continue its traditions despite the complications of the Coronavirus Pandemic as Trace Blair and others on the ACLS Board of Directors successfully adopted and implemented new COVID-related procedures. See, "New guidelines for auction buyers," written by Noel Wilkerson Holmes and published by the Pleasanton Express on January 6, 2021.

Watch Trace Blair's daughter Sydney give the prayer at the opening of the 2021 Atascosa County Livestock Show on the Pleasanton Express Facebook coverage of the event.
Trace Blair has served as the Arena Director for the Commercial Steer Show at the San Antonio Livestock Exposition since founding the show in 1999. He is pictured below with the 2021 Grand Champion Winner, Robert Stavinoha from Colorado County.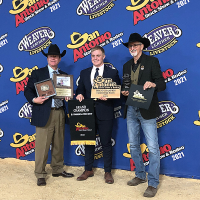 Community traditions continued despite continued pandemic challenges with Trace Blair serving as a Director and Chairman of the Auction for the 68th Annual Atascosa County Livestock Show held January 10-15, 2022. As a member of the Jourdanton FFA, Trace Blair's daughter, Sydney, opened the auction by singing the National Anthem, while her sister, Serah Kate, led everyone in prayer. Wigington Rumley Dunn & Blair has supported hundreds of exhibitors through contributions to their projects and is proud to partner with the ACLS in rewarding the youth of Atascosa County for their hard work and dedication. For more, read "Atascosa Co. Livestock Show steers to success," written by Melissa Theis and published in the Pleasanton Express on January 19, 2022.
5. Salvation Army

Each year, Wigington Rumley Dunn & Blair LLP is a sponsor of the fund-raising golf tournament dedicated to supporting the San Antonio programs of the Salvation Army.
6. Bethune Day Care Center
Children play every day next door to our offices in Corpus Christi at the Mary McLeod Bethune Day Care Center. We were thrilled to be able to help keep these kids safe by building a new fence for the day care facility. They put Wigington Rumley Dunn & Blair LLP 's name on the fence.
7. Jourdanton Education Foundation
In November 2019, the Jourdanton Education Foundation (JEF) debuted as a 501(c)(3) charitable organization dedicated to improving the opportunities for students and educators of the Jourdanton Independent School District (JISD). JEF will work to supplement the JISD operating budget through various charitable fundraising efforts.
JEF has three primary goals: (1) to enhance and enrich educational opportunities for JISD students; (2) to support JISD staff for innovative efforts and to recognize JISD staff for exemplary teaching; and (3) to involve the JISD community in assuring a quality education for the leaders and workers of tomorrow.
Trace Blair of Wigington Rumley Dunn & Blair LLP is honored to be among local community leaders selected as founding members of JEF. Together with his fellow JEF board members, Mr. Blair's efforts will focus upon locating donations and resources to fund JEF's three noteworthy goals, as explained in more detail at the JEF Facebook page and on the JISD website.
8. Texas High School Mock Trial Competition
Since 1979, the Texas High School Mock Trial Competition has invited thousands of high school students (public, private, and home school) to a statewide academic competition where participants take on the roles of both attorneys and witnesses in a mock trial. Regional meets are held across the state. Regional winners advance to the annual Statewide Competition held in Dallas on the first weekend in March. The Texas champion mock trial team then goes on to compete at the National High School Mock Trial Competition.
Wigington Rumley Dunn & Blair LLP enthusiastically supports the Texas High School Mock Trial Competition for its endeavors, and the firm is honored to award scholarships to winning Mock Trial participants.
In 2020, the WRDB Mock Trial scholarship recipient was Keefe McDonald of W.B. Ray High School.
9. Coronavirus – COVID 19 Resources Guide
The Coronavirus Pandemic swept through Texas wreaking havoc and leaving Texans facing unprecedented and sometimes dire situations. Many in our local communities find themselves in need of basic things like food or money to pay the rent. Others need help in obtaining government benefits including unemployment, having lost jobs due to "Stay-at-Home" Orders where non-essential businesses are mandated to close their doors in an attempt to "stop the spread."
Wigington Rumley Dunn & Blair LLP and WRDP Partner Trace Blair have been honored to work with the Pleasanton Express in providing an online guide to both state and local resources that can assist people in finding help with things like food; rent; unemployment filing; family services; recovery and/or substance abuse support; elder care and senior services; local church services; and more.
From Trace Blair, as quoted in the Pleasanton Express:
"Our firm was founded on the principles of sacrifice for the sake of helping others. My partners and I have been so inspired by the examples of heroism and self-sacrifice that those on the front lines in our community have made to see that we remain healthy, fed and well supplied with all we need to remain sheltered from exposure to the virus.
"To the healthcare workers here and especially in the hardest hit urban areas of our country, we honor, applaud and thank you. And to those of you who willingly risk your own health to see that the rest of us don't have to, you have a place at our fire anytime."
For more information, read:
10. Sunshine House Coffee and #spreadkindnessforMandT in Jourdanton

Audrey McCleary and Kelli Hindes run Sunshine House Coffee in Jourdanton, Texas. The coffee shop operates in conjunction with a 501(c)3 nonprofit organization entitled #spreadkindnessforMandT created by Audrey and Kevin McCleary as a way of encouraging people to perform acts of kindness for others. Both are tributes to the legacy of their children Madison McCleary and Tanner McCleary, who passed away in January 2017.

Today, Sunshine House Coffee is a popular community hub for families throughout the local area. The McClearys' social media movement #spreadkindnessforMandT has achieved a global reach.

WigRum is proud to support the McClearys' efforts to give back in the face of tragic loss. It is a personal matter: not only are the McClearys neighbors to WigRum partner Trace Blair and his family, but Trace's youngest daughter was a close friend of Tanner McCleary.

For more on Sunshine House Coffee and the global movement established by #spreadkindnessforMandT, read about the growing media coverage given the Jourdanton coffee shop in "Our very own bucket list destination: Sunshine House Coffee to be featured on 'The Texas Bucket List'," written by Rebecca Pesqueda and published by Pleasanton Express on January 6, 2021.
11. 20th Anniversary Remembrance of 9/11
The White House Proclamation explains the importance of this year's Patriot Day and National Day of Remembrance as:

On Patriot Day and National Day of Service and Remembrance, we honor every life that was taken too soon. We honor the first responders — firefighters, law enforcement officers, emergency workers, and service members — who answered the call of duty, and the brave civilians who rushed into action to save lives that day. Their courage embodies the American spirit and resilience, and their heroism continues to inspire new generations of Americans.

On the 20th Anniversary of that dark day in our country's history, WigRum was privileged to sponsor the commemorative ceremonies dedicated to those who lost their lives on 9/11 as well as Atascosa County first responders, held at Pleasanton River Park on September 11, 2021.

As the nation continued its vow to "Never Forget," these ceremonies began with a solemn flag and wreath laying ceremony. This was followed by the Patriot Day 5K in the Park, with runners of all ages in an enthusiastic turnout for the evening race.

For more details, read "Patriot Day 5K/1 mile walk in the park and 9/11 ceremony: Public invited to never forget at 20th year anniversary event," written by Pleasanton Express Staff and published by Pleasanton Express on September 8, 2021.
12. Trace Blair Accepts Outstanding Service Award – Texas Tech Law School Alumni Association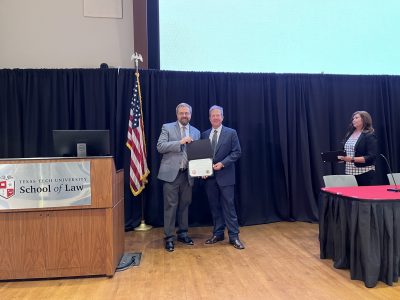 In May 2022, the John Huffaker Agricultural CLE Program was awarded the annual Outstanding Service Award by the Texas Tech Law School Alumni Association. As CLE Program Co-Director, the award was presented to Trace Blair, who has lead the program for many years. Wigington Rumley Dunn & Blair, LLP sponsors the program.

The John Huffaker Agricultural CLE Program is offered annually to attorneys across the State of Texas both live and online, providing an opportunity to delve into unique and complex legal topics pertaining to the practice of agricultural and landowner law. Topics include farming and ranching matters such as water law, livestock and poultry matters, farming and ranching business operations, taxation, and legacy planning for agricultural operations. Since its inception in 2006, the course has become nationally recognized as one of the preeminent continuing legal education programs serving lawyers practicing agricultural law in this country.

"Agricultural law is a constantly changing and always challenging area of practice. I am honored to serve with David Waggoner as Co-Director of one of the nation's foremost Agricultural CLE programs. David and I were humbled to accept the Texas Tech Alumni Association's Outstanding Service Award," said Trace Blair.



13. Annual 9/11 Patriot Day Run: We Will Never Forget
On December 18, 2001, a joint resolution by Congress designated September 11 of each year as "Patriot Day." Several years later, on April 21, 2009, Congress took another step to distinguish the significance of this day in the nation's history as our annual "National Day of Service and Remembrance." See, 36 U.S.C. §144 and 42 U.S.C. §12501.
Recognizing the importance of tradition with the continued commemoration of the events of September 11, 2001 as our nation's Patriot Day, WigRum is honored to be among the sponsors of the annual Patriot Day 5K in the Park at Pleasanton River Park.
As a tribute, this run was first held in September 2021 as part of the national 20th Anniversary Remembrance of 9/11, with Wigington Rumley Dunn & Blair, L.L.P. providing sponsorship. Due to the community's overwhelming support of the event, the Patriot Day 5K became an annual race dedicated to honoring local first responders as well as all those who perished on that fateful day.
We will never forget.
For more details, read "9/11 Patriot Day in the Park; a promise to never forget," written by Cade Andrews, Staff Reporter, and published by the Pleasanton Express on September 14, 2022; and "Third annual Patriot Day 5K another success," written by Cade Andrews and published by the Pleasanton Express on September 13, 2023.
14. National Fire Prevention Week 2022
There are few horrors greater than the loss of a loved one in a fire. Here at WigRum, we sadly understand all too well the tragedies of a fire accident from our advocacy for fire victims and their loved ones. We have stood for justice in the aftermath of fiery catastrophes such as the Quinton, Oklahoma Oil Rig Fire, considered to be the deadliest drilling accident since the 2010 Deepwater Horizon rig explosion in the Gulf of Mexico.

It was our honor and privilege to honor our local fire departments, most of which are 100% volunteer, during National Fire Prevention Week. This is a century-old national public awareness campaign organized and promoted by the National Fire Protection Association.

As President Joe Biden explained in this year's White House Proclamation:

"With every home, school, and business destroyed in a fire, precious memories are lost, livelihoods are jeopardized, and dreams are crushed. This National Fire Prevention Week, let us reflect on the importance of remaining vigilant and learning more about fire safety. Let us acknowledge the remarkable service of our Nation's firefighters and honor the memory of those who have lost their lives protecting others. And let us all work to make these heroes' jobs more manageable, keep our neighbors safer, and reduce the risk of fires across our country."

Wigington, Rumley, Dunn & Blair LLP proudly served as one of the sponsors of a South Texas Fire Prevention effort dedicated to educating and advancing public awareness of home fire safety. Read, "National Fire Prevention Week Oct. 9-15," written by Noel Wilkerson Holmes and published by the Pleasanton Express on October 12, 2022.

From WigRum's perspective, any fire prevention campaign must include expressions of appreciation and gratitude for those first responders who have dedicated their lives to protecting all of us from fires. So, our law firm extended its thanks to our local firefighters with the following message that appeared in the Pleasanton Express as part of the weeklong safety campaign: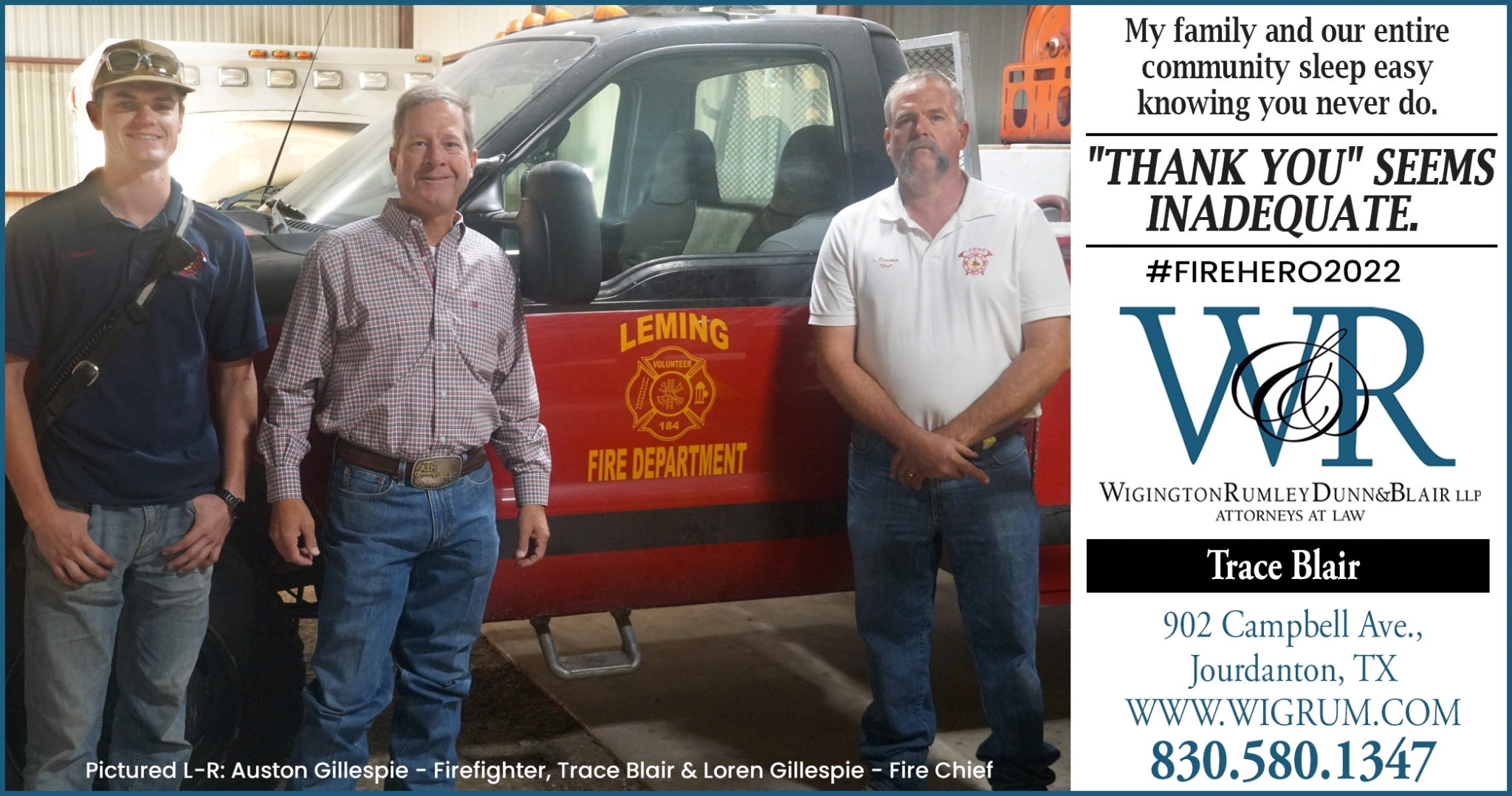 15. The Waggoner Blair Endowed Scholarship at Texas Tech School of Law (Trace Blair)

In May 2023, WigRum partner Trace Blair was honored to have a new Texas Tech University School of Law scholarship endowed in his name alongside the name of Texas lawyer David Waggoner. Together, attorneys Blair and Waggoner have served as Co-Directors of the John Huffaker Agricultural Law Continuing Legal Education Program (CLE) for the State Bar of Texas for many years.
On the first morning of their 2023 CLE Program, John Huffaker announced his endowment of a $25,000 Tech Law scholarship in the names of David Waggoner and Trace Blair, in recognition of their dedication and service to the practice of agricultural law in the State of Texas. This amount was then matched by other planning committee members with an additional $25,000, as announced by member Amber Miller.
The Waggoner Blair Endowed Scholarship for the Study of Agricultural Law will be awarded annually to deserving students of the Texas Tech University School of Law.
"I am very proud to be a graduate of the Texas Tech University School of Law. What a special honor, especially to share this accolade with my friend and fellow Tech Law alumni, David Waggoner, and to have received this tribute from John Huffaker, a giant of a lawyer who recently retired as General Counsel of the Texas Tech University System. It was the most humbling moment of my professional service," said Trace Blair.
From the Texas Tech University School of Law:
An endowment is a permanent fund held by the Texas Tech Law School Foundation and invested to provide income for support. The principal itself is never spent and thus serves as a continuing and reliable source of funds. Through named endowments, the name of the donor or honored person becomes a permanent part of the law school legacy, known and remembered by future generations of law students.
An endowed scholarship provides life-changing opportunities for generations of Texas Tech law students. Established with a gift of at least $25,000, the endowment ensures the expense of the law school does not have to be a barrier to receiving an outstanding legal education at Texas Tech Law. You can find a listing of our current scholarship endowments here.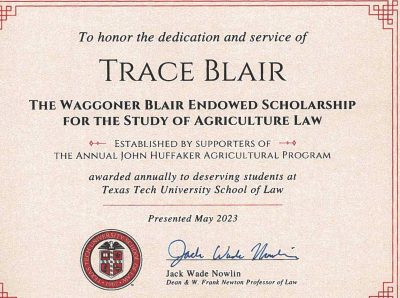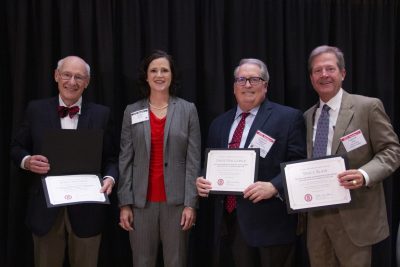 Our Other Community Commitments
Other Wigington Rumley Dunn & Blair LLP contributions include our annual financial support and donations to the following organizations: