TEXAS POLICE OFFICER WRONGFUL DEATH LAWSUIT
Mar 13, 2020
David Rumley of Wigington Rumley Dunn & Blair LLP represents Michelle McCollum, widow of Corpus Christi Police Officer Alan McCollum, in a wrongful death lawsuit filed against defendants Brandon Portillo; Christopher Litke; Walter Thompson; and Wonders Bar and Grill, where over $10,000,000 in personal injury and wrongful death damages are sought based upon allegations that Portillo was driving drunk when his vehicle struck and killed Officer McCollum during a traffic stop of Litke's vehicle on January 31, 2020.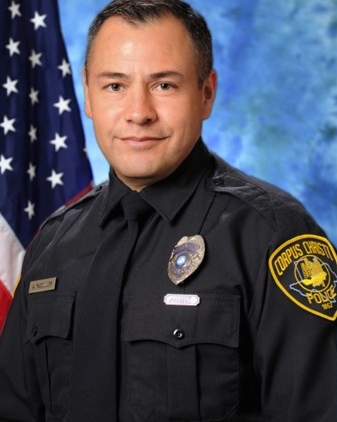 Officer Alan McCollum served with the Corpus Christi Police Department for seven years, including being a member of both the CCPD's Honor Guard as well as its SWAT Team. He was awarded the CCPD Life-Saving Award for his contributions in rescuing a man from a burning car crash on New Year's Day 2019.
Alan Daniel McCollum was also a decorated war hero. Officer McCollum was a 21-year veteran of the United States Army and the recipient of the Bronze Star, among other many other decorations, medals, and honors awarded during his service to our country.
The City of Corpus Christi still mourns the loss of Officer Alan McCollum. In the aftermath of his passing, the Harbor Bridge was lit in blue. Statewide, Governor Abbott ordered both the Texas and U.S. flags lowered to half-staff for seven days in tribute. Thousands attended his funeral, coming from across Texas and around the country to give their respects.
WRDB considers it an honor and a privilege to advocate on behalf the Estate of Alan McCollum and his widow, Michelle, in seeking justice on his behalf.
The wrongful death suit is based on allegations that Portillo was driving while intoxicated when his Chevrolet Silverado struck and killed Officer McCollum during a traffic stop on State Highway 358 in Nueces County. Officer McCollum was hit by Portillo's truck as he was walking toward Christopher Litke's vehicle. Litke was driving a Ford F250 owned by Walter Thompson at speeds exceeding 100 mph before being pulled over.
Earlier that evening, Brando Portillo was drinking at Wonders Bar and Grill where he consumed 18 alcoholic beverages before getting behind the wheel of his pickup. The bartender who served him 16 of the 18 drinks has been arrested. Allegations include that even after Portillo showed signs of being intoxicated not only to servers but also bartenders and managers of Wonders Bar and Grill, service was never denied him.
Explains WRDB's Rumley: "Portillo was served 18 drinks. One bartender served him 16 of the 18. How do you explain serving someone 18 drinks? We intend to hold everyone who played a role in Officer McCollum's death accountable for their actions."
For more details, read the Plaintiff's Original Petition.
Media coverage of this Wrongful Death Lawsuit includes: