Deadly Gas Pipeline Explosion and Fire in Port of Corpus Christi
Aug 22, 2020
Early yesterday morning, another horrific environmental catastrophe hit Corpus Christi and our surrounding South Texas area when an underwater gas pipeline exploded after being struck by a dredging barge at its loading dock in the Port of Corpus Christi Ship Channel.

The barge, named the Waymon L. Boyd, was instantaneously engulfed in flames from the exploding propane. Soon, a huge grain elevator caught fire, as well. It is unclear from news reports at this early juncture whether the barge's fire itself or the underwater pipeline gas explosion caused the grain elevator to ignite.
It is clear this was a cataclysmic event. The immediate impact of the explosion was felt for miles. Within minutes, the Nueces County skyline filled with a black smoke plume as the vast and massive fire raged against attempts to bring it under control.
Rushing to the scene, the U.S. Coast Guard established a harbor perimeter blocking all vessel traffic into the area. Local police issued alerts for residents to stay clear of homes that were in close proximity to the huge blaze. Read, "Corpus Christi pipeline explodes, USCG searching for missing crew members," written by Alexandria Rodriguez and published in the Corpus Christi Caller Times on August 21, 2020.
National news coverage monitored the event alongside the local media. Around sunset, firefighters succeeded in extinguishing the pipeline explosion fire.
The Orion Marine Group has admitted to the news media that nineteen (19) of its employees were harmed in this blaze. Some are confirmed to have perished in either the explosion or its resulting fire. Others are receiving medical care and treatment, including five victims airlifted for specialized burn treatment in San Antonio. Read, "Coast Guard: 4 remain missing, 6 hospitalized after pipeline explosion in Corpus Christi," written by Robert Sims and Will DuPree and published by KXAN-TV on August 21, 2020.
Sadly, two of the four missing victims have yet to be found as of August 22, 2020. Authorities continue to search for these victims in both the accident wreckage as well as the surrounding waters. The bodies of two victims were located in the morning after the disaster. Read, "Two missing bodies found after port pipeline explosion," written by Eddie Cruz, Ryan Garza, and Ana Tamez and published by KRIS-TV on August 22, 2020.
Why Did This Happen?
At this early juncture, it is too soon to know the exact cause (or contributing factors) that resulted in this horrific event. Official investigations, including the federal investigation of the incident reportedly to be undertaken by National Transportation Safety Board, will take months to complete before any findings are issued.
However, even before the firefighters successfully extinguished this gigantic fire, many were angered by this as part of a continuing pattern of environmental harm and disaster perpetrated by the oil and gas industry.
Here at WigRum, we have seen firsthand the tragic results to individuals and their families as the result of oil and gas fires and explosions. However, we are far from the only ones who not only worry and wonder about the victims and their loved ones, but grow angry at the growing number of serious and fatal pipeline explosions and fires in the State of Texas.
Consider the following statement issued yesterday by Environment Texas, a non-profit advocate for clean air, clean water, and open spaces:
"A massive fire and explosion broke out this morning along refinery row in Corpus Christi, Texas. This fire follows fires at a Poly-America plastic manufacturing plant in Dallas and Pasadena Refining Systems near Houston earlier this week. Officials say a barge hit the pipeline, causing the explosion and fire. …
"Our hearts go out to those injured by today's explosion and fire. We wish them a full and speedy recovery. We want to thank the first responders for their rapid response to this disaster.
"No Texan should have to fear an industrial facility exploding or catching fire. This is the third fire at an industrial facility in Texas this week. These incidents can release high amounts of toxic pollution, like volatile organic compounds, sulfur oxides, and nitrogen oxides, which can cause cancer and harm to the respiratory and immune systems.
"We can no longer see these events as isolated incidents. A clear pattern is emerging. Looking back over the last eight years, the Texas Commission on Environmental Quality (TCEQ) has taken enforcement action against just two percent of illegal air pollution events, and Texans continue to pay the price for TCEQ's failure to hold polluters accountable. Lax regulation is contributing to a culture of carelessness, allowing companies to play fast and loose with our health and safety. Something stinks, and, as we know, fish rots from the head. We need Governor Abbott to hold polluters accountable, and ensure these disasters are the exception, not the rule."
Also consider the warnings from Bill Caram, Deputy Executive Director of the Pipeline Safety Trust:
"As I dig into each area of pipeline safety, I continually run into the same question in my head – Why on earth don't these regulations go far enough!? Surprisingly, there is generally one answer – the Cost-Benefit Requirement. …
Any new proposed regulation must make economic sense for the industry. Any proposed rule must not cost too much relative to the benefits. I'd like to clearly state here that the benefits we are talking about are not just protecting our clean water and natural world, but also human life. I'm morbidly curious what dollar value is placed on a human life in their calculations. And on the cost side of the equation, who calculates what a new proposed rule would cost? The industry groups do. I don't know about you, but this shocked me.
"Our nation's pipeline industry is the only industry protected by such an explicit and codified cost-benefit test."
WigRum Fights for Texas and Texans Harmed by Environmental Negligence and Oil Industry Neglect
Here at WigRum, we have extensive experience in advocating for victims of the fossil fuel industry. We know firsthand how aggressively these companies defend their actions as they try and shield themselves from financial liability. We understand their relentless pursuit of profit.
WigRum has extensive experience in fighting large corporations in the courtroom, having achieved the rare distinction of having four nine-figure jury megaverdicts against major corporate defendants.
WigRum has dealt specifically with major oil and gas industry players and companies involved in fracking operations and environmental negligence, including:
Toxic Tap Water -- City of Corpus Christi
When in December 2016, the City of Corpus Christi was notified that the city's drinking water was filled with toxic chemical Indulin AA-86, a known carcinogen, firm co-founder David Rumley instituted a series of claims against Valero in multi-district litigation seeking both actual and exemplary damages against the petroleum company for what was argued as act or omissions of "extreme degree of risk, considering the probability and magnitude of the potential harm to others of which [Valero] had actual awareness, but nevertheless proceeded with conscious indifference to the rights, safety, or welfare of others."
For more, see our Contamination Injury - Environmental Negligence page.
Wrongful Death in Historic Oil Rig Fire – Quinton, Oklahoma
In February 2020, a jury awarded $20,000,000.00 in a wrongful death lawsuit brought by WigRum partners David Rumley, Jeff Wigington, and Joseph Dunn in the aftermath of the Patterson 219 oil rig fire near Quinton, Oklahoma, on January 22, 2018, considered to be the deadliest drilling accident since the 2010 Deepwater Horizon rig explosion in the Gulf of Mexico. This is largest jury verdict in the history of Pittsburg County and one of the largest verdicts ever rendered in the State of Oklahoma.
For more, read the June 2020 article published in Trial Magazine's Verdicts & Settlements section entitled "Jury Awards Damages to Families of Oklahoma Oil Rig Fire Victims," shared with permission below: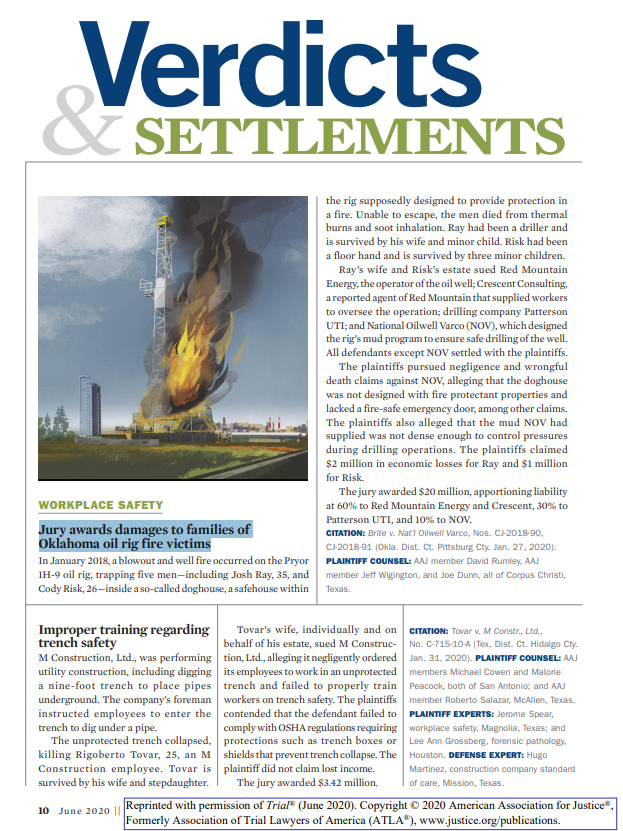 For more, read our News Coverage of the Oklahoma Oil Rig Litigation.
Everyone at Wigington Rumley Dunn & Blair is saddened and shocked by the Port of Corpus Christi explosion and fire yesterday and the horrific loss of life and permanent injury which has resulted from these events. Our sincere condolences are extended to the victims, their families, and their loved ones.
From our professional perspective, we are also incensed at the continuing realities for Texans today. As Environment Texas points out, there are pipeline disasters being reported on a routine and regular basis in our beloved Lone Star State today. We know the fossil fuel industry is notorious for putting profits over people, and we sadly presume yesterday's pipeline explosion may well be yet another example of this simple truth.
Please feel free to contact David Rumley for information or comment.